Work is under way on the final phase of the $53 million Lyttelton Harbour Wastewater Project through Heathcote and Woolston.
This map shows where the new pipeline will run.
The fourth stage of the wastewater service upgrade involves laying several kilometres of underground pipeline to connect both the Lyttelton and Christchurch wastewater systems.
The pipeline will run from the Heathcote side of Tunnel Road, under Bridle Path Road, Port Hills Road, Mauger Drive and Scruttons Road, before continuing under the paddocks parallel to Tunnel Road, under the Heathcote River and connecting to the Woolston pump station in Alport Place.
From there, Lyttelton Harbour's wastewater will be pumped through to the Christchurch Wastewater Treatment Plant in Bromley, ending the routine discharge of treated wastewater into the harbour.
Christchurch City Council City Services General Manager David Adamson says the Lyttelton Harbour Wastewater Project is one of the Council's largest wastewater projects.
"Despite the scale of this project, people won't see much of the constructed work as most of the assets will be underground," Mr Adamson says.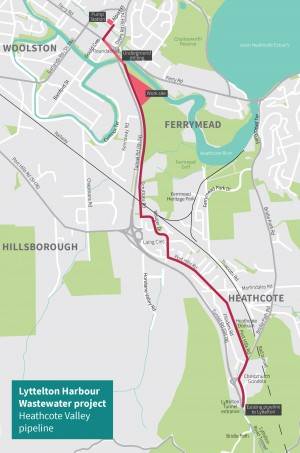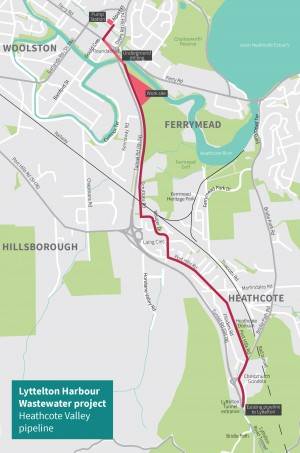 "One of the more difficult feats of engineering will involve installing the section of pipeline deep under the Heathcote River by using directional drilling technology to create a tunnel and dragging more than 400 metres of pipeline through the space."
Multiple construction crews are working on the project to ensure minimum time on the road and disruption to residents.
Work is planned to start this month, with pot holing for the existing services followed by pipe installation.
Access will still be available to homes and businesses, with "start work" notices being delivered closer to the time that the construction crews are on-site.