Lyttelton Port Company (LPC) is linking the people of Lyttelton to the waterfront with a new pedestrian pathway to Te Ana Marina.
This month LPC began constructing a pathway, two new pedestrian crossings and relocating the Sutton Quay Port access gate, creating a pedestrian link from Norwich Quay to the Marina on the west side of the waterfront.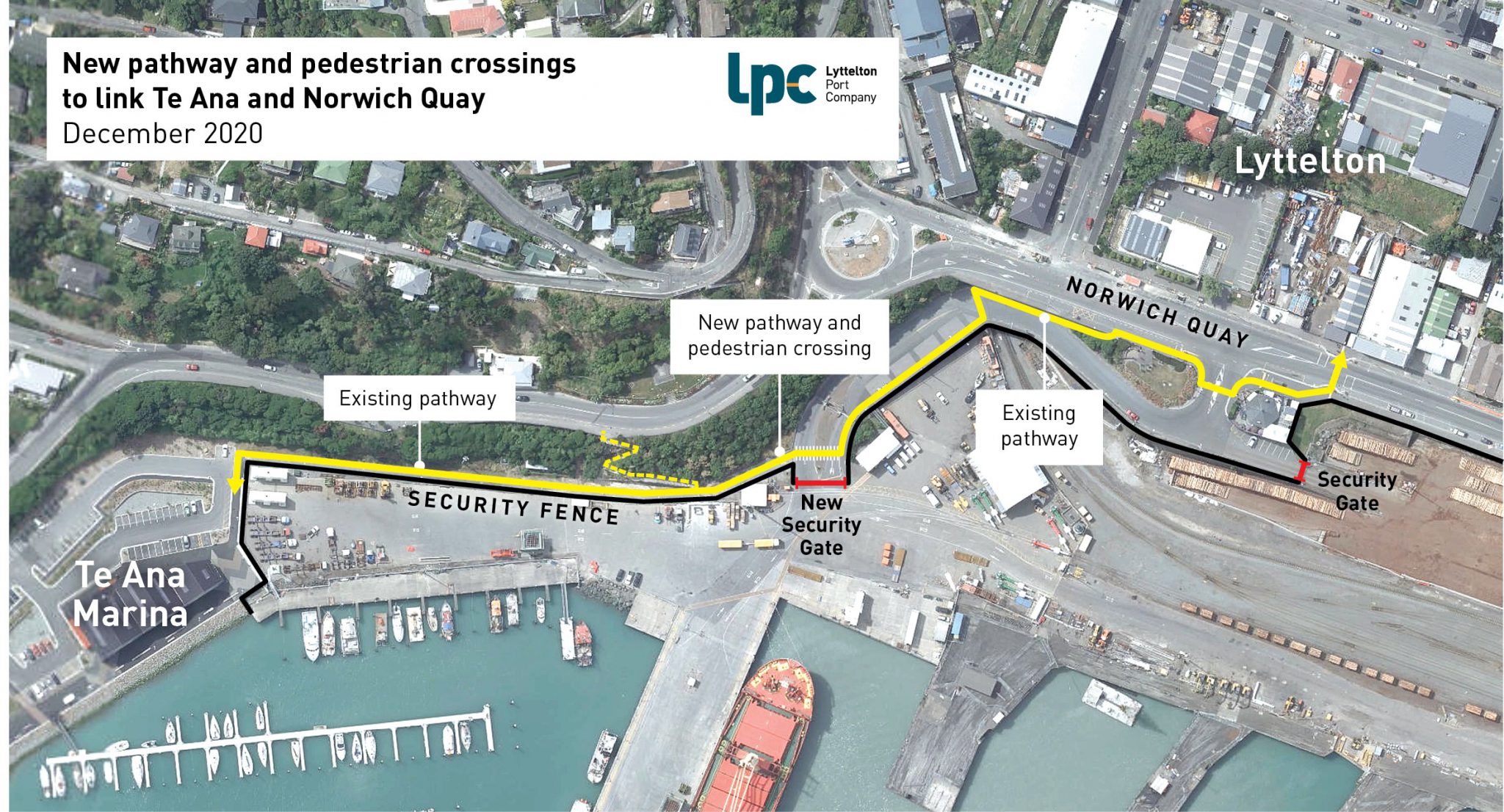 Currently, there is no pedestrian access from Sutton Quay to Te Ana Marina, meaning people must either use the stairs from Simeon Quay to the back of Te Ana Marina or walk down to Godley Quay.
Deputy Mayor of Christchurch and Councillor for the Banks Peninsula ward Andrew Turner says he's excited to see the Lyttelton community gain additional access to the waterfront.
"Whakaraupō / Lyttelton Harbour is a special place to many people. We know that particularly during the COVID-19 level 4 lockdown earlier this year Te Ana Marina was very a popular spot for locals to walk and enjoy some fresh air.
"Providing this walkway will mean people can now easily walk from Lyttelton's town centre to Te Ana Marina.
"I'm looking forward to seeing more families and visitors down on the waterfront this summer – this is the perfect spot for a picnic, a walk along the promenade or a chance to take in the stunning harbour views."
LPC's GM Engagement and Sustainability Phil de Joux says since Te Ana Marina was opened by the Port in 2018, it has been fantastic to see the community use the recreational area as a space to connect and enjoy.
The new pathway is expected to be completed by mid-December.
"We're expecting to have the pedestrian pathway ready in time for the community to enjoy over the summer holidays," says Phil.
What is the Lyttelton Port Company?
Lyttelton Port Company is one of five organisations in the Whaka-Ora Healthy Harbour partnership. This new pedestrian link falls under the partnership's Harbour ecological band, focused on ensuring Whakaraupō remains a recreational treasure for visitors and locals.