The recent Whaka-Ora Healthy Harbour showcase event at Living Springs went off without a hitch.
The event lent a chance for the Lyttelton Harbour community to meet with the people behind our catchment management plan and to learn more about how they can get involved to ensure its success – restoring Whakaraupō/Lyttelton Harbour as mahinga kai.
Attendees welcomed by a number of speakers
After a tour around Living Springs, approximately 70 people were welcomed into the event by tangata whenua Te Hapū o Ngāti Wheke.
This was followed by an introduction to the new co-chair Roger Gray, CE of Lyttelton Port Company.
Co-chair Yvette Couch Lewis, from Ngāti Wheke, spoke about the importance of the Plan and the community's role in its success, before Sam Hampton from University of Canterbury spoke on the volcanic history of Whakaraupō.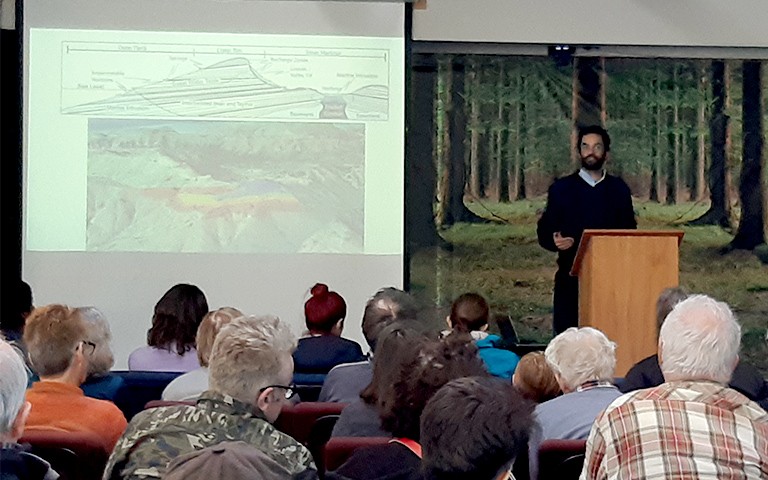 Local interest was pleasing to see
Te Hapū o Ngāti Wheke 'Head of the Harbour' co-ordinator, Kathryn Bates, said she was pleased with the number of community members who showed an interest in our Plan.
"This was a wonderful opportunity for the groups working in the harbour to come together and network; to hear and see what is happening."
Stallholders included Predator Free Banks Peninsula, Environment Canterbury, Lyttelton Port Company, The Cacophony Project, University of Canterbury Geology, Conservation Volunteers NZ, as well as Whaka-Ora and 'Head of the Harbour' with a display on mahinga kai and the 'Head of the Harbour' project objectives.
More community events in coming months
Bates said another showcase is provisionally planned to take place at Rāpaki in November, as well as a meeting in October with some landowners regarding an īnaka/whitebait spawning habitat study.
"It is important that we continue to hold events at various locations around Whakaraupō/Lyttelton Harbour to keep landowners in the loop about progress and projects of the Whaka-Ora Plan."